Glyder Cosmetics
Styptic for Her, A Cosmetics Product Design

Glyder came to Principal Design with an existing styptic product geared towards men's shaving needs. The Styptic balm for men was selling well, but was encased in an ordinary chapstick container which did not meet the needs of the end user. Our client's idea was to target women's shaving needs with a stylized Cosmetics Product Design.
Glyder needed an aesthetic that could sit comfortably in a Cosmetics Product Design and retail environment and in the consumer's bathroom, shower, and travel bag. Achieving an elegant and slim profile while maintaining ergonomics with user friendly and durable materials was no small accomplishment.
Principal Design was able to employ our proprietary design process to discover and effectively execute to the needs of both the customer and the end user. Though compact in stature, the 'Glyder for her' dispenser design includes several useful innovations not found in similar products.

Glyder challenged us to create a beautiful cosmetic dispenser that could be gripped comfortable and applied easily in and out of the shower environment. The flared knob and angled opening provide necessary touchpoints for the user.

In such a small package, the performance of the materials and design of the featureset was an exercise in balance and refinement. A soft touch coating and pad printed logo enhance the appeal, while the cap provides clean up functionality.

A mechanism was invented to provide the user with 30 clicks, or roughly a month's supply of styptic material. The knob functions to dispense material in one direction and prevents contaminating the remaining styptic material.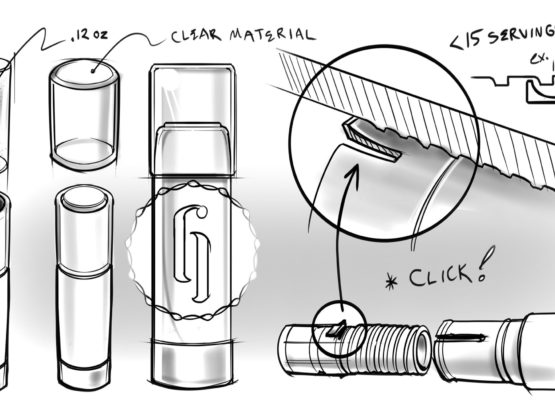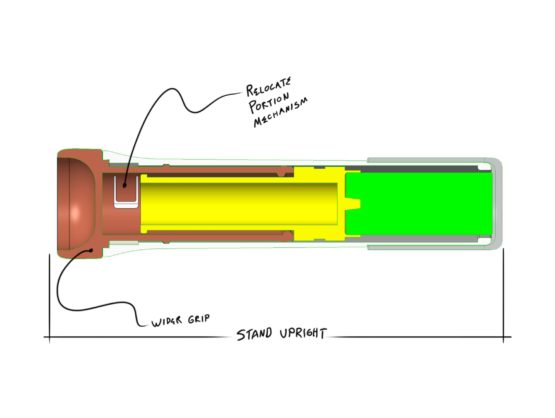 Principal Design's 5 step process is a project development framework based on effective design methodologies, another way to describe our process is to compare it to the 'four D's': Discovery, Definition, Development, Deployment.

Not unlike the 'Scientific Method', our product development process includes stages and gates that provide opportunities for testing, validation, and continuous improvement. We use feedback loops to make smart decisions tailored to the customer's business objectives, while highlighting the important role of the end user.